Well, here we are, and here, we, go...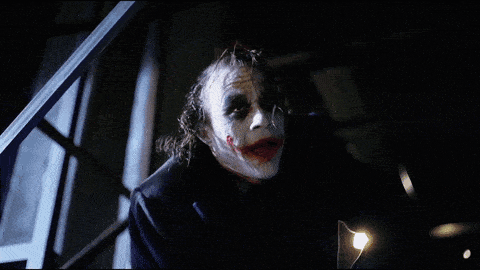 Episode #1 of The Local Hustle has finally been published.
After months of finding a space, fitting it out, buying the gear and connecting it all up, setting up the podcast hosting and distribution services, creating all the online channels, scheduling time with guests, all while working around the limitations that come with a pandemic, we're here...
The Studio
I have plans to make the studio space available for private bookings in the future, so it had to be fairly central to the Port Macquarie CBD, have parking nearby, and be small enough to manage the acoustics in the room.
After a few months of looking around town, this little room popped up at Level 1, 10-12 Short St, Port Macquarie. You can't get much closer to the centre of town and it's right across from a parking lot.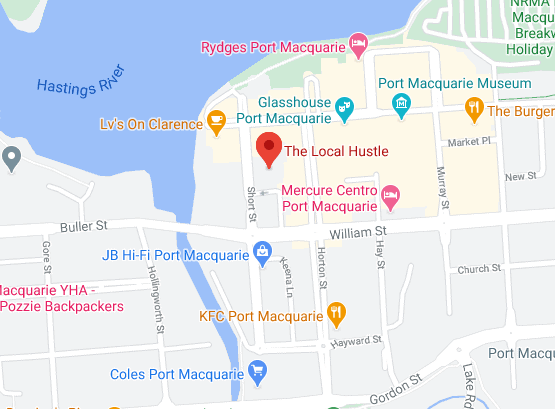 If you've been around the Port Mac area for a while, you might recognise this as the old Port Macquarie RSL location. Well, this little room is the control room that looks down over the big auditorium, hence the big electrical control boxes on the walls.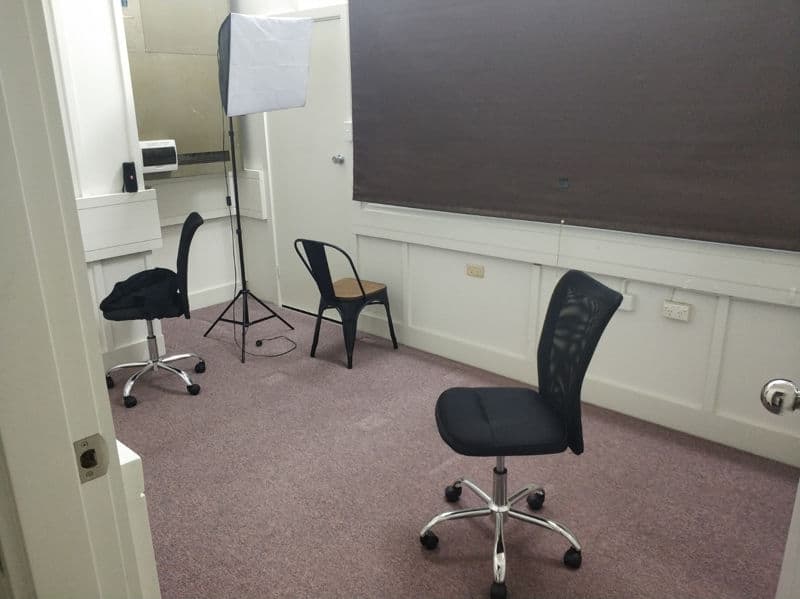 Audio Gear
For this little studio space, I decided to go with the Rodecaster Pro as the centre-piece of the setup, as it is actually designed as a 'fully integrated podcast production studio', and this would be it's primary function.
The Rode Podmics are made to pair perfectly with it, so there's a couple of those, and then some mic boom arms, some headphones, and then some other bits to connect it all together.
All of this gear was purchased locally from Geoff and Alan at Coastal Music on Lake Road, thanks guys!
Curtains
You can see in the previous photo of the room, the ugly brown blind over the big window. Aside from just looking bad, it was also quite reflective to light and sound, which is not great when you're trying to record audio and video. So it obviously had to go.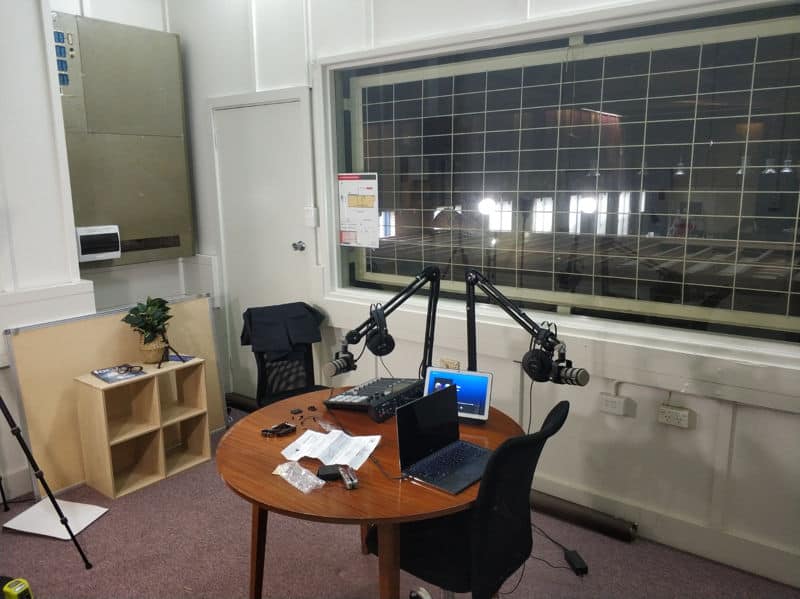 After looking around at a few different options, we decided to DIY some curtains for now to get us going, so I picked up some pre-cut curtains from Spotlight and some rods from Bunnings, and am much happier with the result than that old brown thing.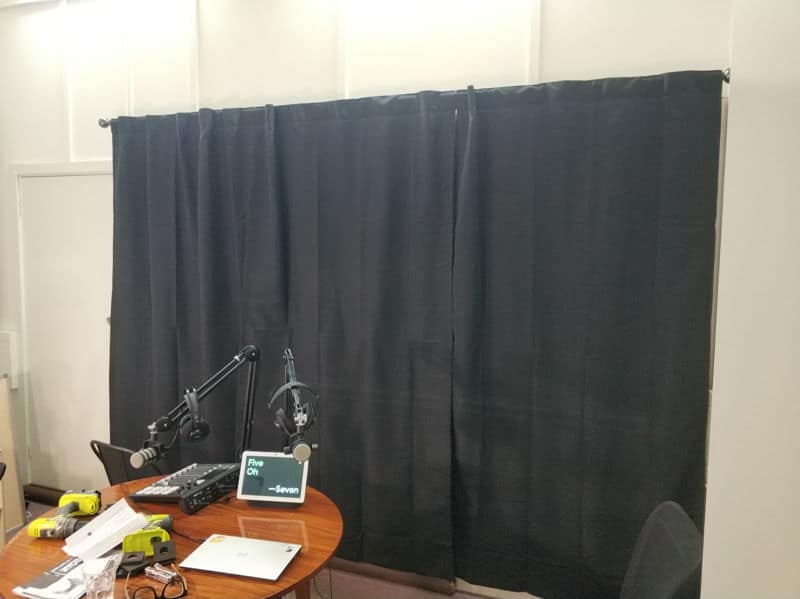 Lighting
A small room with no windows to the outside, and only two big white flourescent lights doesn't really lend itself to a nice creative space, so to fix this problem, I went to Bunnings (again) and picked up a few simple black floor lamps and put RGB smart bulbs in them, so you can turn them on and off, and change colours with voice control using the Google Nest Hub Max that you can see on the table.
After playing around with a couple of different configurations, I think I've landed on the table in the corner (next picture).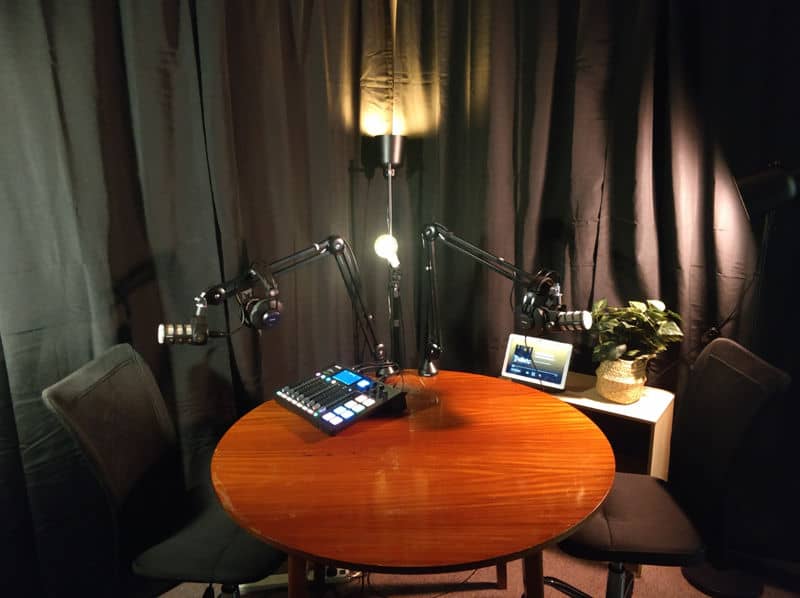 I've now recorded a couple of interviews in this configuration, and I'm pretty happy with the results. It's sounding pretty good.
What's planned next?
Although the state of the studio is now producing great quality audio for podcasts, there's still a couple of things I'd like to improve upon before making the space available for public hire.
The next thing in the pipeline is to get some acoustic panels made to put up on the walls and maybe even the ceiling to help even more to 'deaden' the room.
I have plans to get a bigger table in here, with enough room for up to 4 mics and guests, and that looks much nicer in photos/video.
I'd also like to get some local art in here to put on the walls and add some more colour.
And many other ideas floating around...
If you'd like to come in and have a look at the space, or if you're interested in potentially using the space in the near future, you can contact me here.
Cheers,
Robey